Interior Redesign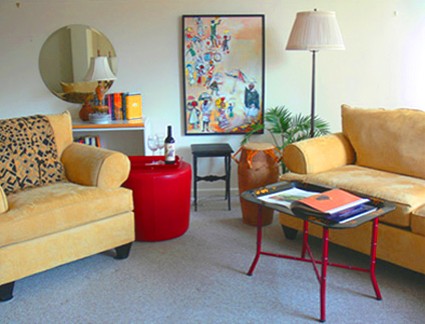 The places where we live, must soothe and support who we are today, while generating inspiration for the person we BECOME tomorrow.
REDESIGN starts with what you already own- your furnishings, art and accessories- what you love, treasure and value.
Actually, that's not true. REDESIGN starts with listening. WE listen as YOU talk about your taste and style, how you want to feel when you arrive home, your vision- how you function in your space. Or what needs to change so you CAN function.
After some hard listening, we know what to offer. The specific solutions, opportunities, resources and out-of-the-box thinking to fit YOUR vision.
For some clients that's all they want or need from us at the time. That's called a CONSULTATION.
We offer a 3-hour interactive CONSULTATION for $275.
However, many clients know they don't have the desire nor the TIME to manage their own followup after a consultation. They know they need and want more of what we have to offer. At that point we draft a contract with specifics and schedule the day for their personal on-site REDESIGN transformation.
The fee of our INTERIOR REDESIGN service is $125-175 per hour (3 hour minimum).
Take a few minutes now to view our INTERIOR REDESIGN Portfolio
Words from our FANS:
Over a period of years, my wife and I have collected an eclectic range of furniture and art from different travels. Carole drew out which of the pieces we liked best and worked those in first and later filled in with the remaining elements. She also made a couple of particularly creative ideas of which we are truly appreciative as we would have never come up with them ourselves. - Scott, Arlington Heights
You will find more words of client gratitude in our FANS section.